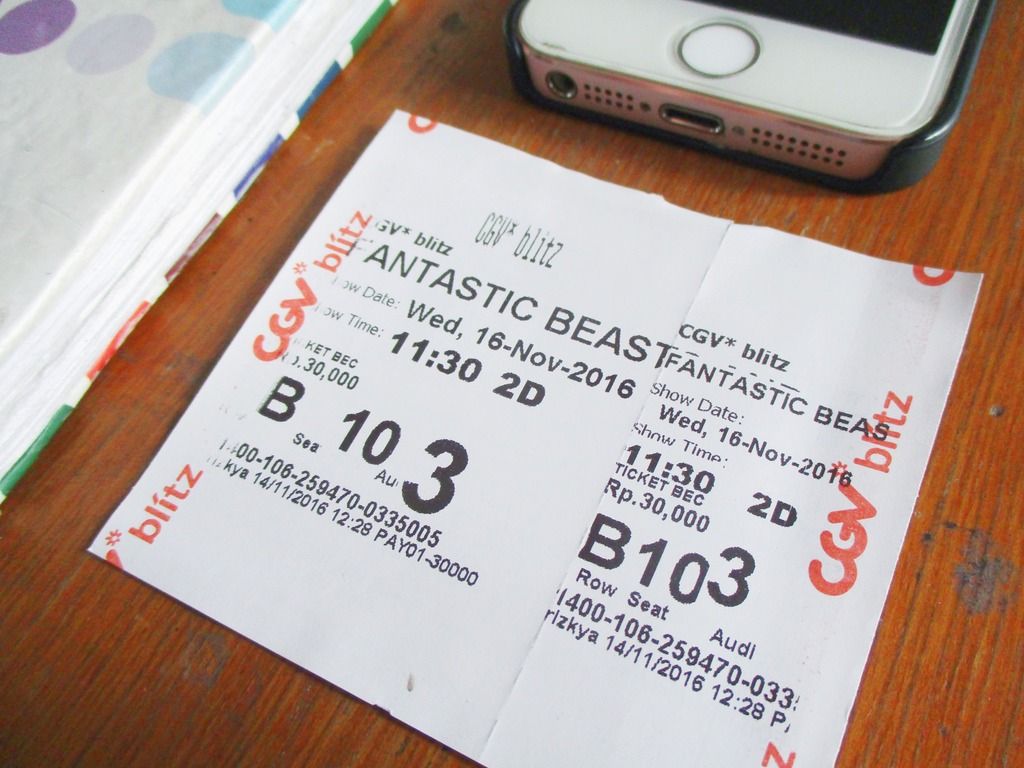 Yesterday, Fantastic Beasts and Where to Find Them premiered in my country. As usual, Afief and I went to the premier. We got quite nice seats, and since we went to the earliest show at 11.30 am, there were no noisy school kids. Very nice!

In case you didn't know, this movie is based on the Fantastic Beasts and Where to Find Them, a (fictional) school textbook used in the Care for Magical Creatures class in Hogwarts. The book is more like an encyclopedia of magical creatures with their information, such as where to find them (hence the title) and how to take care of them. The book was (fictitiously) written by Newt Scamander. The movie storyline is about Newt Scamander's journey around the world, researching for the book.

The story opens with Newt arriving in New York in 1926. He carries a briefcase with him, which contains quite a lot of magical creatures. He meets a male no-maj (ugh what a dreadful word!) named Jacob Kowalski in an incident when a niffler escaped from his briefcase and ran into a bank. Before Newt can obliviate Jacob, he escaped carrying his briefcase. Turns out, their briefcases were accidently switched. When Jacob arrives at home, he notices that there's something strange with the briefcase and opens it, releasing several of the magical creatures. Meanwhile, Newt is captured and taken by an agent of MACUSA (Magical Congress of the USA), Porpentina "Tina" Goldstein. After realising that the briefcase was switched, Newt and Tina go to Jacob's apartment but they are too late. Jacob has fainted, his apartment blown apart, and the briefcase has been left opened. Newt and Tina, accompanied by Jacob and Queenie (Tina's sister), have to find all the escaped beasts while also deal with the growing darkness engulfing New York.

After the Pottermore-hype a few years back, I felt that JK Rowling was milking money from Harry Potter franchise until the very last drop. Then news came out that Fantastic Beasts was going to be adapted into a movie and I thought "How do you make a movie based on an encyclopedia?" and how greedy JK Rowling had become these past years. Well, let's just say that I owe Ms Rowling a million apology, because Fantastic Beasts hands down blew my mind!


Even though the story was set in the past, I feel that it is very refreshing. Along the years, we followed Harry Potter's growing up from a pre-teen into a young adult. We basically grow up with him. We identified with him. But we're adults now and Harry will always be 17 (or 36 if we count the epilogue; early 40s if we count The Cursed Child). Fantastic Beasts shows us the wizarding world, though old, from a whole new perspective that we haven't seen before: the adult world. Here we see adult wizards and witches in their working world: working as aurors, working behind the desk, making coffees, etc. Gone is the teenage world with hormones and angst; it is replaced with the world of adults with responsibilities. Also, the original story also adds up a point. With Harry Potter series, we already knew the stories from the novels, so we compared the films and the books. Fantastic Beasts has an original story, thus it is quite unpredictable. Although I like spoilers, I still think it's fun to watch unpredictable movies. I didn't know anything about it before watching besides that Newt Scamander is researching for his book, that he goes to the USA, and that his briefcase starts a disturbance to the wizarding community there. I didn't know what evil would appear as the 'bad guy' in this movie. I left the theater with a smile on my face because I realised how wrong I was to expect less than spectacular.

In conclusion, it's a very good movie. It has the witty jokes the Harry Potter series offered, it has interesting female characters (the President is a POC female!), and it shows the other side of the wizarding world we've never seen before. I can't wait for the rest of the series (there'll be four more films).

Have you seen Fantastic Beasts and Where to Find Them? Do you like it? Tell me!

Second image via.


Dara | Bloglovin' | Instagram | Twitter | Facebook