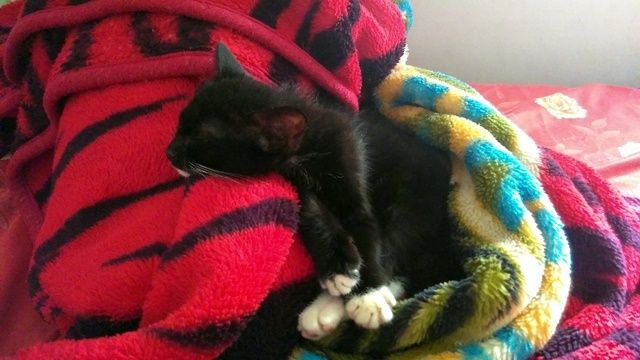 It was about half a month ago. As I was preparing to go tutoring at 2 pm, I heard a sad cry. It was a little black kitten in front of a vacant house across the street. I was already running late and I thought the cat mama was near, so I left the kitten there and went to Bandung.

However, when I came back home at 6.30 pm, the sky already dark and the rain pouring, the little kitten was still crying. At that time, its voice was already hoarse. I could tell that the poor thing was thirsty. But it was nowhere to be seen, just a voice cutting through the sound of raindrops. I couldn't just stand there listening to that sad cry, so I grabbed my umbrella and a flashlight.

I found the little thing in the backyard of the same vacant house I had seen it earlier in the afternoon. He (it's a male) was shaking and his eyes were all swollen shut. I took him home and put him in a cardboard box. I didn't have kitten food, so I fed him Jessi's food mixed with water. He ate noisily (nom-nom-nom) while Jessi kept a safe distance from the strange creature.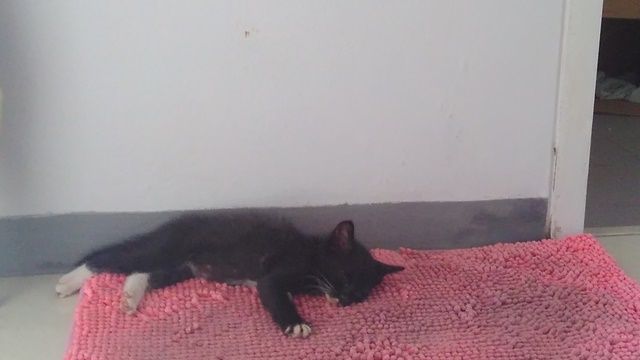 He's so small!

My husband agreed that we could keep him for the night, then I had to search for the mother the next morning. We knew by then that the mother was the neighbourhood stray black cat that we occasionally fed. I didn't find her the next morning, but I did find her with her band of kittens two days later. I presented the little kitten to his mother. They embraced. The mother licked him and licked him and licked him. . . . She kept licking and pushing him until he fell into the sewer and left him there crying once again. And I was like what.the.actual.heck. I took him back home and washed him clean. Then we (my husband and I) decided to keep him for good and name him Chop-Chop.

As we had already guessed, Jessi loathed him during his first days with us. There were a lot of hissing and growling and crying (on Chop-Chop's side). Chop-Chop couldn't even use his litter box (I keep his & Jessi's apart) and he went everywhere: under our bed, under the cupboard, under my home office table, in the laundry basket. The house was a mess.

Then all of a sudden, they became BFFs, so far as destroying the curtain together. Now they nap together, play tag, run around the house and knock things off in the process. The house is still a mess, but it's a happy mess now.

So without agenda, without any plan, we have two cats now. It's been years since the last time I had kittens, I almost forgot how annoying kittens can be, moreover kittens with no mother around. Thank goodness, Jessi is willing to take care of Chop-Chop i.e. licking him and playing/teaching him how to fight. She's a nice big sister. I love them both so much :)




Dara | Bloglovin' | Instagram | Twitter | Facebook