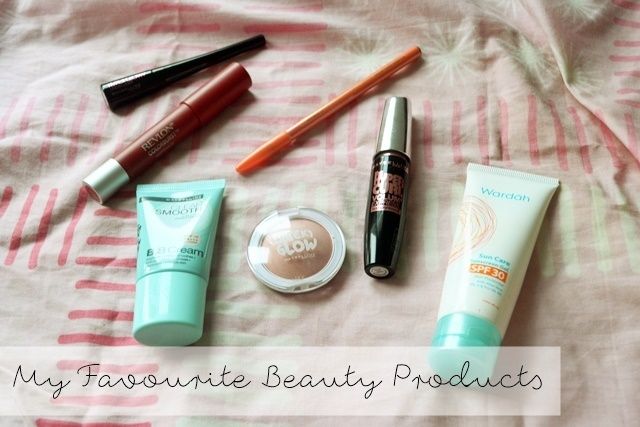 It wasn't until my freshman year in uni that I started wearing make up. My mum was a bit strict, saying that I didn't need make up when I was still in school. It would affect my acne-proned skin, she said. So mostly I only applied loose powder then went to school. I started wearing make up by putting on lip balm and eyeliner. Simply as that. And as time went by, I learnt more and tried many things, until I finally discovered my essential make up routines. These are some of my favourites beauty products ;)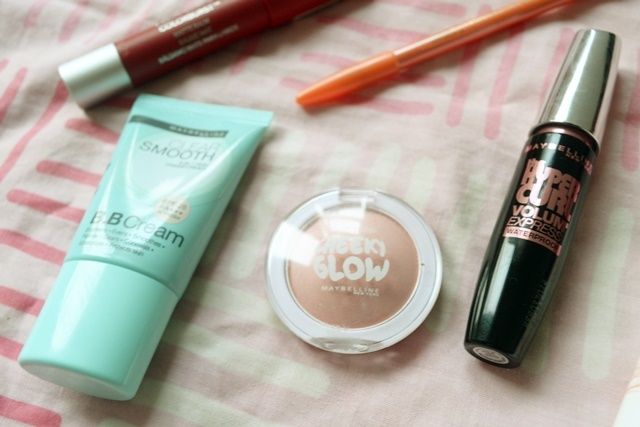 Maybelline Clear Smooth BB Cream | This was the very first BB cream I tried and I think I will never try any other product. It's so good! It blends well with my skin and I don't feel like I'm wearing any cream at all. I use it every day, even when I'm staying home.

Viva Brow Pencil (Brown) | I'm kind of late to the brow game. I started wearing eyebrow pencil after getting married. I was originally proud of my natural eyebrows, but they were shaped into ridiculously uneven shape so I needed to draw them to avoid being a walking comedy. They all grow back now, but I'm already in love with the brow game so I still use it every time I leave my house. Viva brow pencil is quite soft, making it easy to apply. But it's easy to rub off; you don't need make up remover to clean it.

Maybelline Hyper Curl Mascara | I hated mascara. It always got smeared on my eyeglasses' lenses. But now that I've found out how to solve this problem (which is to let the mascara dry first before putting the glasses on), I'm very glad that I can wear it. I haven't tried any other brand, but this Maybelline mascara is very good. It's long lasting (I usually wear it for 12 hours) and waterproof; though it can get smeared if you scrub it.

Maybelline Cheeky Glow Blush On | I have pale lips and I don't always wear lipstick. That's why I can look very pale even with make up on. I wear this blush on to put some colours on my face and to avoid looking like a sick girl. I have the pink one. A friend says that the more orange-y ones are good too, but it just doesn't suit me.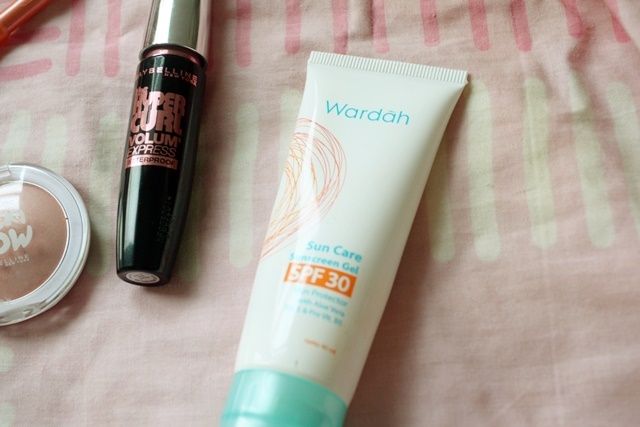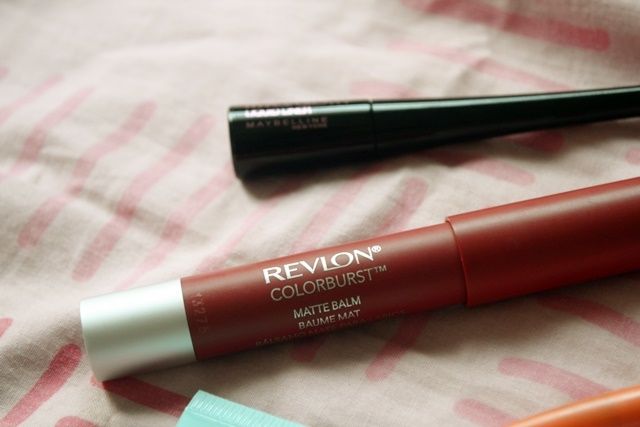 Wardah SPF 30 Sunscreen Gel | Although it's called a sunscreen gel, it's actually a lotion. My skin is acne proned, so it's important for me to wear sunscreen or sunblock because apparantly the sun is my skin's biggest enemy. This sunscreen smells so good (like orange milkshake, haha!) and it absorps quite fast. Plus, it doesn't make my face oily. However, Wardah is a local brand. Maybe you can find it in Malaysia and Singapore too, but I don't think they sell it in other countries.

Maybelline Hyper Glossy Liquid Liner | Yes, this is the fourth Maybelline product in this post. I guess I just LOVE Maybelline, because everytime I want to buy a beauty product, I check if Maybelline has it first. This liquid eyeliner is super easy to use because the brush is so thin and long. It's also long lasting and waterproof. You can't really clean it off your face without eye make up remover. I always buy the black one, but if I'm not mistaken it comes in brown too.

Revlon Colorburst Matte Balm | This is the best. Red. Lipstick. EVER. I've been in the red lip club for so long, but this one is just the best. It's easy to apply, long lasting (I usually wear it for 12 hours), hard to rub off (need make up remover), and it has this cool mint sensation when applied. It's a bit expensive for my budget, though, but given the fact that it is so satisfying, I'm already planning on getting another one in another colour. Pink, maybe? (Do you think I'll look good sporting pink lips? Haha!)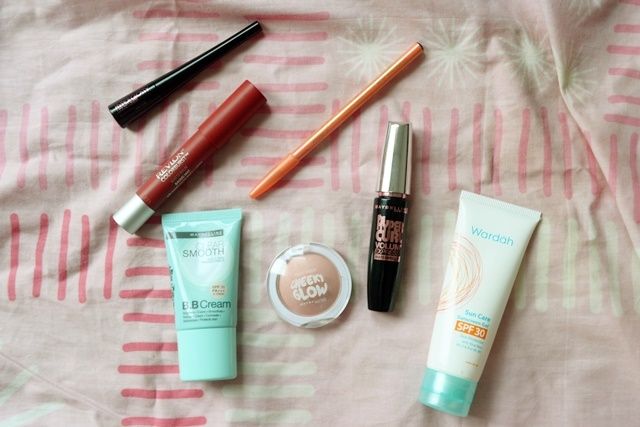 They're just a few of my favourites. I don't include my loose powder, moisturiser, and make up remover (my make up remover is the reason why I believe in magic and unicorns!). I will share them in another post in the future.

Now, what about your favourite beauty products? Do you use any of these? ;)

PS. I'm having a giveaway at Sara's blog. Enter to win a phone case!



Dara | Bloglovin' | Instagram | Twitter | Facebook

Labels: beauty, favourites, reviews