When we were still dating, we spent our Saturdays by going out anywhere we could think of. We only had one day to spend together before the night fell and Afief had to drive me home safe & sound before my curfew, so we almost always left my house early in the morning and spent the whole day jumping from one place to another.

But now that we're married, we can spend our weekends doing whatever we like. No more curfew and no more angry parents if I come home late (that's one of the many benefits of being married :p). We can cuddle all day, or we can go on a roadtrip to another city (just like last week). There's a washback, though. Like for last Saturday, we had no idea what to do. We wanted to go out, but we didn't know where to. When it was already 11am, we decided to go to Alun-Alun Bandung (Bandung's City Plaza). Recently, the mayor reconstructed it and made some significant changes to the plaza, i.e. putting on a huge synthetic grass there so the people can go picnic there or just sitting around. We hadn't seen the plaza after the reconstruction, so it was a good idea to go there.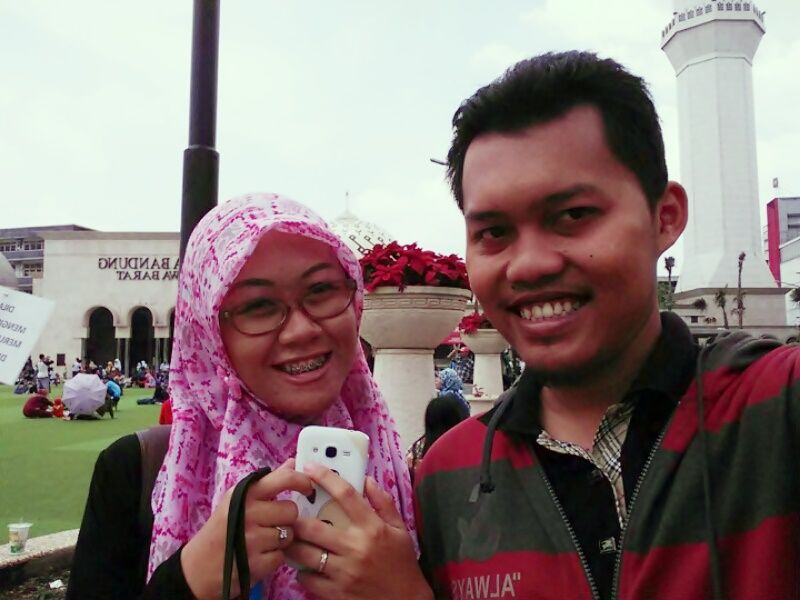 We only spent like one hour there because it was so sunny and so hot. But when we we decided to go to Ciwalk to play Pump It Up, the sky suddenly became dark and a storm hit the city. The wind was scary and it made me thankful that we had already left the plaza, or else we would be soaking wet and cold. We made it home safely, though, as the storm only occured for about one hour. The storm set aside, the day was super fun ;)

On a different note, you might have noticed that the pictures on this blog have worse quality lately. I gave my DSLR to my little sister, so I rely solely on my phone camera. So sorry for the inconvenience; I know they hurt your eyes. I'm saving for a new pocket camera, but have yet to decide what type I'm going to buy. Do you have any suggestion? Hit me up on the comment section or mention me on Twitter (@DarlaOct).

See you guys around!