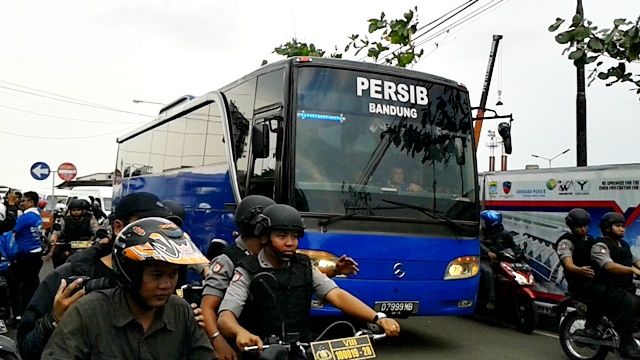 The school in which I've been teaching is located in an air force base complex. The main part of the complex is the Husein Sastranegara Airport, which also functions as an international commercial airport. After winning the Super League on Friday night, the whole squad of Persib Bandung, along with its official crew and Mayor Kamil, boarded a Hercules plane from Palembang to Husein Airport on Saturday afternoon.
I decided to go home right away after work, but the main gate of the complex was closed. Hundreds of bobotoh (a term used to refer to Persib Bandung's fans) were blocking the way and I had to turn back and use another exit. That was when I thought "Hey, why don't I wait for Persib too!" I mean, hundreds of people were outside that gate, wanted to get inside but weren't allowed to. And there I was, already inside the complex. I only needed to wait for a few minutes for them. So I decided to wait.
What I thought would take just a few minutes turned out to be one full hour. But it was worth the wait! I got to see them from just 2-3 meters away and took several pictures. It was my very first time experiencing this kind of euphoria. It was so thrilling and it gave me goosebumps and I'm not even a die hard fan of them. I'm glad for those who love Persib with all their heart. They must be over the moon right now.
Once again... congratulations, Persib!