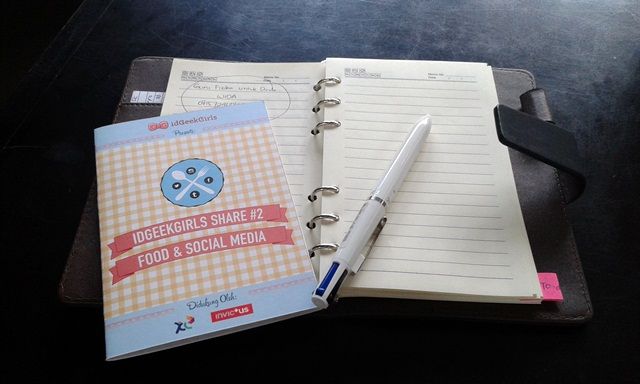 Taking pictures of your food and then posting them up on Instagram has become such a common thing nowadays. It started out simply as a fun way to share what you were having for lunch, but then it got big and bigger, and now we what we call as foodstagrammers (I know
this guy
and
this girl
in real life). This phenomenon was what drove the
idGeekGirls community
to hold a small talk show called "idGeekGirls Share #2 Food and Social Media" on Saturday. This event took place in 90 Gourmet restaurant. There were four speakers and around 20 participants.
For about one hour, we talked about the effects of foodstagram (and food blogs in general) from restaurant owners' point of view, how to write a good food review, how some restaurant owners handle complains delivered through social media, food styling, and many other things. I also met some people among the participants, like fellow bloggers, an owner of a newly opened restaurant, a reporter from a local newspaper, etc. We were given lunch of our choice (I chose Chicken Maryland which was super yummy), and then after we had our lunch, the event was closed with quizzes and giveaways.
For a free event, it was pretty awesome. The talk show was very informative and it gave me new knowledge in foodstagram and food blogging. Besides getting a big lunch, I also went home bringing a goodie bag plus a (huge) jar of cookies. I'm definitely looking forward to joining another event by idGeekGirls.
***
I'm currently participating in a blog competition held by Hijabers Community Jakarta. Please vote for me by clicking here. Your vote brightens my day. Thanks! XOXO