Hello, lovelies! It's a gloomy Monday here in Bandung, but I'm in a very pleasant mood. Why? Because I don't have to attend English for Office Administration class tomorrow. Yo ho ho!
And for the first time in weeks, I do a Music Monday post in the actual Monday. This week's theme is One Hit Wonders. I had to dig my memory very deep to find these songs. I need to inform you that these are one hit wonders in Indonesia. I know that Smash!! was quite popular in their origin country (Russia), but they only had one hit here in Indonesia. The same thing happened to Jesse McCartney. So, I beg your pardon if you think that these songs are not really one hit wonders in your country. (Afterall, I don't have a wide knowledge in music, actually.)
So, here they are:
Again, I'm linking up with Kristen for her Music Mondays feature. She hasn't posted her playlist and the linky yet, but I'm going to post mine now. Hope you enjoy it. Happy Monday, y'all!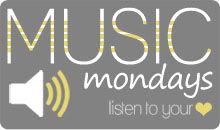 Sincerely,
Putdar.