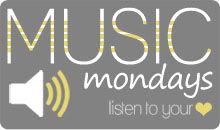 Woohoo... I'm such a lazy girl. Two nights in a row, I went to bed earlier than usual. I just felt so tired, even though I did nothing. So this post had to wait two days before getting posted. It actually had sat in my draft since Monday, but I didn't have the energy even to just click 'Publish'. Whoa!
So here they are, my friends, five greatest love songs in my version. Hope you enjoy them as much as I do.
Oh and happy pinkish day :)
Sincerely,
Putdar.
PS. I have another playlist from last year with more songs. Check it out!